Products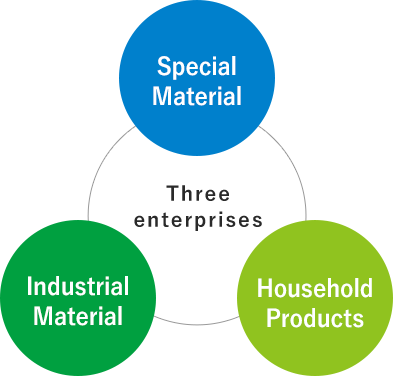 Drawing a new page with three enterprises
With a history spanning about 100 years, along with modernizing Japan, household products and industrial-use paper developed as "the foundation that supports Japanese industry". With a mission to nationalize specialized paper that had no choice but to rely on imports, specialized paper has brought about countless firsts in Japan.
Displaying only one added value and production technology that maintains stable quality at low cost that supports infrastructure, unrelenting commitment towards product development demonstrates the synergy effect between the three fields of special material, industrial material, and household products, and along with expanding the limitless potential of the material called "paper", we are also pursuing possible reduction of the burden on the environment.
Special Material
For example, packaging that will enhance the taste of sweets, design that attracts attention to the originality of a piece of work, securities that are counterfeit protected, and paper used for confidential postcards to protect privacy. With the strength of techniques which created the history of specialized paper in Japan, we are supporting industry and culture with over 5,000 variations of products.
Industrial Material
Freshly-picked vegetables that are still moist and wrapped gently as a high-precision machine would, industrial-use paper has high functionality that is demanded in the business world. In addition to strengthening functionality such as waterproofing, water repellency, anti-slipping, and cosmetic applications, we are creating a delivery system that responds to customers' needs.
Household Products
You wake up and make the coffee. You put your feet up in the living room. You cook in the kitchen. Paper exists with a reliable, nonchalant presence in many different daily life situations. Gentle to the touch, and with importance placed on ease of use, we continue to make delightful paper that is essential to a comfortable lifestyle.